A Light To Our
Maronite Church
The Maronite Servants of Christ the Light are a congregation of consecrated religious serving the Church in the parish as spiritual mothers in imitation of Mary, radiating the Light of Christ in their life of contemplative prayer, asceticism, and apostolic mission to children, youth, young adults, families, the sick, dying, and grieving… We serve alongside the priest in pastoral ministry reaching out with a maternal touch to the many needs of the parish family.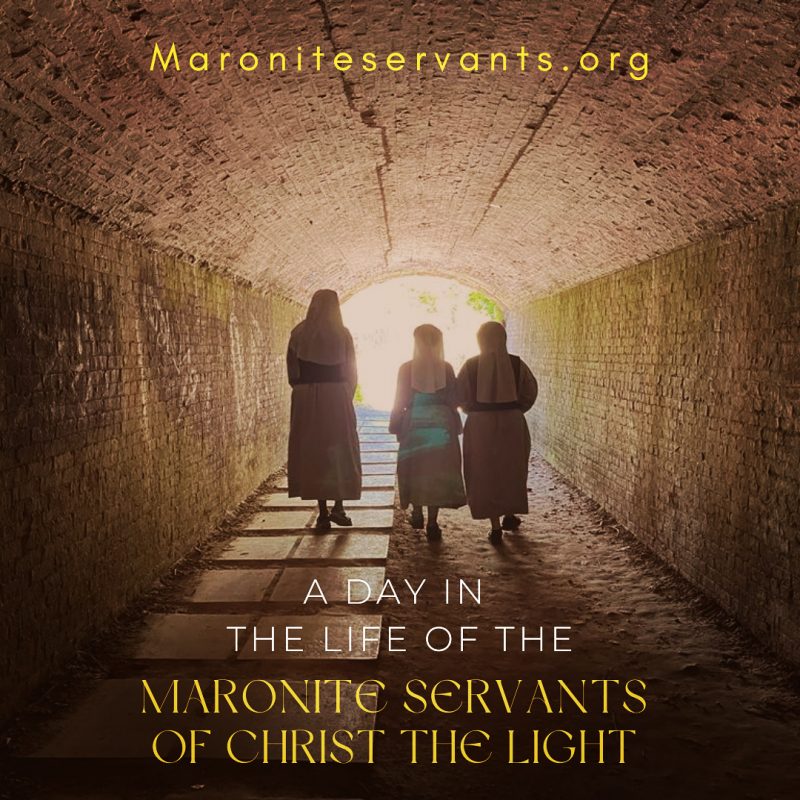 Discernment Retreat Weekend for Women, April 14-16
Is Jesus calling you to Come, Taste and See? Are you seeking to learn more about religious life and how God might be calling you to use your gifts to serve him? 
The Maronite Servants of Christ the Light located in Dartmouth MA invite young adult women (ages 18-39) to prayerfully consider joining them for a Discernment Retreat Weekend, April 14-16. The weekend is designed to give young adult women a glimpse into our prayer and communal life. The Sisters will also be offering some conferences on prayer, discernment and religious life. Above all, this retreat weekend is an anointed time for young adult women to come away, pray and be with Jesus, our Eucharistic Lord, as He reveals His love and desires.
If you have any questions or are interested in the retreat, please contact Sr. Therese Maria at [email protected]. 
Our Efforts Are Possible Through Good People Like You
Subscribe to our Mailing List
Consider Becoming a
"Missionary Of Light"
In Your Lenten Giving
Missionaries of Light are our generous monthly benefactors who support our mission as Maronite Servants of Christ the Light.
By becoming a monthly supporter, you will help us through your financial contributions and prayers to continue to spread the Light of Christ and sustain our different ministries and works of mercy. As a "missionary" you are on mission with the us in spreading the Light of Christ.
Whatever amount the Lord puts on your heart is appreciated. The Sisters pray for our benefactors each day. Please help us by becoming a Missionary of Light!
Our Pastoral ministry doesn't stop on our grounds. Virtual outreach has become a large part of our work!
Connect with us online and share in the mission we serve daily!
For our new #TypiconTuesdays series we will be giving you a glimpse into our Maronite Servants' Rule of Life. "Typicon" means rule of life for a religious community. 
Each Tuesday we invite you to learn more about the Maronite Servants of Christ the Light and their way of life. If you have any specific questions for the Sisters DM @maroniteservants.